Apologies for the spotty updates lately: some dreadful events unfolded in my personal life. I'm all right, but it will take a while for things to get back to normal.
Award season is upon us, what better time to look back at what 2010 had to offer us in the way of diversity in media.
One year closer to the Mayans killing us all.
I think that's how that movie went.


The year started off promisingly, with Kathryn Bigelow taking home the Oscar for Best Director for the The Hurt Locker, something no woman had ever done before. I'm including
a link
to the video here just because I love to watch Barbara Streisand grind her teeth before finally making the announcement. Suck it Babs, you had your chance.
Before I go any further I also want to link to this flowchart, which overthinkingit.com put out this year.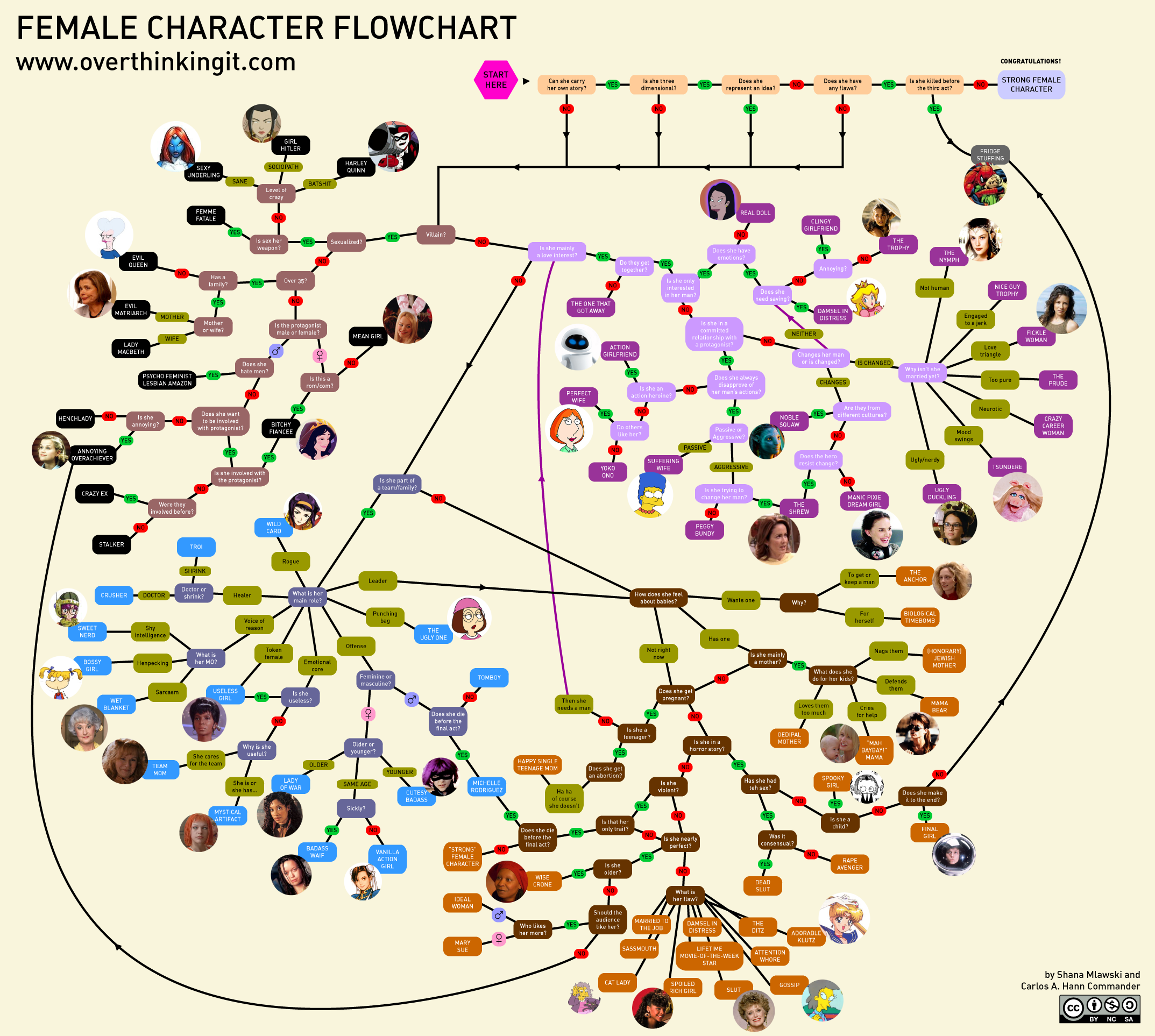 Click for a larger version.
I lurve it.
You won't find Lisbeth Salander on that flowchart. That's because the prickly, bisexual, computer hacker heroine of "The Girl With the Dragon Tattoo" and its sequels defies your petty fucking flowchart. And she'll probably stab you with a bottle and ruin your credit for good measure. This year also brought us "Alice in Wonderland," "The Runaways," "Salt," "Easy A," "Black Swan," and "True Grit," all of which featured strong female heroines. "Let Me In" and "Kickass" deserve special notice: they focused on a man's emotional journey, but had strong female supporting characters who could really have carried their own films. Y'all already know my feelings on
the women of "Inception"
and
Ree Dolly of "Winter's Bone."
In all, a pretty damn good year for female characters.
However, there is still a huge dearth of queer representations in mainstream film. "Easy A" had that old trope of a "best gay" for the female lead; "Valentine's Day" included a gay male couple but then
marginalized them in the film's advertisements
and didn't even let them kiss onscreen. "The Runaways" did feature a lesbian relationship between the two female leads, as did "The Kids Are Alright," and "I Love You Phillip Morris" paired mainstream stars Ewan MacGregor and Jim Carrey as male lovers. But we also had Richard Chamberlain advising gay actors to stay in the closet for the sakes of their careers. And it's notable that all of the above roles were portrayed by straight actors and actresses, or at least no one who was out of the closet.
Things look rosier on the television side of things, especially for both queer representations and queer creators. For the first time since GLAAD began its Responsibility Index in 2005,
all five major broadcast networks increased their representation of queer characters
during the 2009-2010 TV season, with the CW leading the way. In the 2010-2011 TV season, queer characters represent about 3.9% of all characters on scripted TV series, when only three years ago that number hovered closer to 1%.
This was very apparent at the Golden Globes this last weekend. Glee, aka the "gayest show on television," took home several statuettes, with openly gay creator Ryan Murphy accepting for Best Show, recently-married lesbian Jane Lynch accepting the Best Supporting Actress globe, and the sweet little gay dude of my heaarrrrrrrrrrrt, Chris Colfer, making everyone cry with his Best Supporting Actor acceptance speech:
♥ He is my favorite. No apologies, deal wit' it. Colfer's also expressed interest in writing for film, which I hope he follows through on. We can clearly use some of that queer TV magic on the film screen.