I've been meaning to see this one for a long time; fortunately the Fox Tower 10 theater downtown has been playing it for a month and seems likely to continue given the strong buzz around the film. It won the grand jury prize at Sundance and is easily the best film I've seen all year, or in recent memory.
Winter's Bone is the story of 17-year-old Ree Dolly, played by the 19-year-old Jennifer Lawrence. Abandoned by her father physically and by her mother mentally, Ree is raising her younger siblings on her own in the hard-scrabble Missouri backwoods. When her convict father goes missing and puts their house up for bond, she has to track him down through the terrifying, meth-infested veins of her own distant relatives in order to keep the shreds of her family together. It's film noir,
Deliverance-
style.
The people she encounters are more terrifying than any creepy-crawly movie monster that I've ever seen, all the more so because of their basis in reality. John Hawkes from
Deadwood
is particularly effective as Teardrop, Ree's uncle who's a violent wife-abuser and a crank dealer but is also the only person willing to help her. When you first meet him he scares you shitless; but as Ree digs deeper in her search, she overturns so many scarier people--like her great-aunt Merab, played by the pinch-mouthed Dale Dickey--that when Teardrop appears again at a crucial moment and "stands" for Ree, you want to hug the bastard.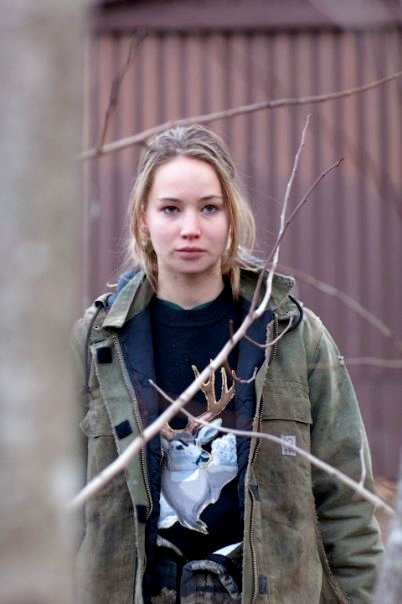 Ree (Lawrence)

Set direction also deserves praise. Every inch of their lives rings true to me, from the trampoline set up in the backyard to the trash in the yards to the way Ree summons her siblings into the kitchen to watch her cook deer stew so that they'll know how, down the road. I grew up as a middle-class household surrounded by rural poverty. I have seen homes like theirs; I have known girls like Ree, who defy any explanation of how they grew up tall and straight among such crooked, strangled surroundings. For despite all the obstacles she faces, Ree has a self-possession far beyond her years. Lawrence turns in an amazing performance, watchful and fierce and determined. It doesn't hurt that she's gorgeous, too.
The film also has the glorious, rare quality of having both a strong female lead and a gifted female director, Debra Grank, behind the camera. One, I imagine, is tied to the other, or both are symbiotic. I'm not saying that it's impossible for any male directors to have strong heroines but when people defend, say, Christopher Nolan's clear lack in that department, they're quick to point out that he's writing from a man's perspective. So if we want to see complex, independent female characters with autonomy and emotional depths, we'd better support our female directors--since apparently we're not allowed to expect that out of men. (And yet Kathryn Bigelow earns glowing praise and the first female directing Oscar for a nearly all-male war film. Funny how that works.)
Don't wait to see this film. Get it now in theaters, then again on DVD. It's amazing.
RSS Feed of this blog to Dreamwidth:
http://rmmohr-feed.dreamwidth.org/profile
RSS Feed of this blog to Livejournal: ??? Can't find it! Someone link me?